Episodes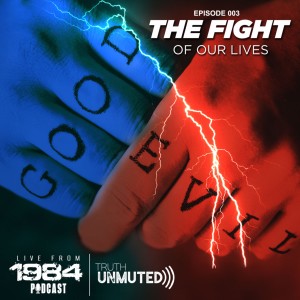 Sunday Nov 28, 2021
Sunday Nov 28, 2021
Join me this week as I discuss the acceleration of globalist plans to takeover the planet, the new COVID-19 Omicron variant, the war against our children, and how the growing resistance movement provides hope as people have had enough of the growing tyranny.
Links and resources shared in this episode are available at:https://truthunmuted.org/live-from-1984-episode-003-the-fight-of-our-lives/
Wednesday Oct 13, 2021
Wednesday Oct 13, 2021
Join me this week as I discuss major news stories including supply chain shortages, the Project Veritas exposes on Pfizer, parents being labeled domestic terrorists, and more. I'll also highlight the societal purge of the unvaccinated and discuss the urgent need to build an alternate society outside of the authoritarian systems of government.
Links and resources shared in this episode are available at:https://truthunmuted.org/live-from-1984-episode-002-the-great-purge
 
Tuesday Sep 28, 2021
Tuesday Sep 28, 2021
The theme for Today's show is: It's for Your Safety. I'll be talking about the link between Covid Camps and Climate Change and how it spells the recipe for Complete Control all in the name of health and safety.
Visit Truth Unmuted to see all the links shared in this episode.
First Episode is Now Live!
Each week on the Live from 1984 podcast will be an in-depth look at the Orwellian world being erected around us and what we as ordinary citizens can do to stem the tide.